The bodysuit's overalls have a large stock in size and take up tied by textile elastic bands. Thus, it fits on a body as tight glove and at the same time it does not himself exert excessive load when worn. The collar of overalls is hemmed with fleece for reliability. Multi-size bodysuit makes it easier to sell it, if you don't need it anymore.
Depreciation zones are made by sewing in a rubber band - our bodysuits has almost double fund for width.

A shape sets by a pads for full digitigrade's character. The pads filled by a synthetic winterizer. Pads are removable by Velcro - it can be washed separately. Pads are much lighter than pads from foam rubber, are perfectly compressed during storage and transportation.

The bodysuit's zip are hidden. This is achieved by stitching the edges of the fur to inside.




Click to enlarge
A tail of a demountable design with fastening from a strong tape for a usual belt. For the tail in the overalls is made a "sleeve" from fur, so that the tail does not look like a separate, hanging piece.

Click to enlarge


Paws design
Finished paws have soft voluminous fleece pads and equipped with sandals with rubber sole. The paws have soft claws made from fleece. Inside the paws there is a fleece sock, which can be turned out for quick drying or cleaning.
We make the multy-size feetpaws - so, this is have't boots of a certain size inside. The base is made of foam rubber. For comfort a feetpaws contain a heel and side restraints and have very light in weight.
Click to enlarge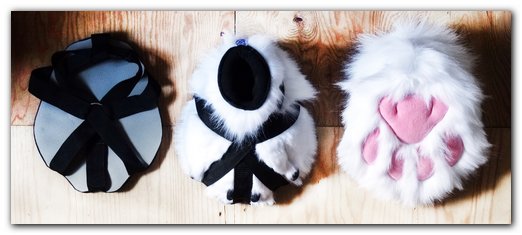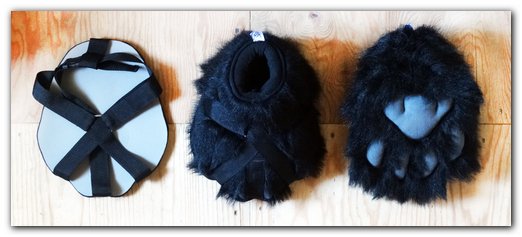 Handpaws have voluminous pads and claws made from fleece - paws with 4-fingered with false "5 finger".

UP to the beginning