"Fursuit KDub The Hare", PHOTOSESSION
Jumpsuit design
The jumpsuit have tied by textile elastic bands, thus it fits on your body as glove - tight and at the same time it and fits almost every size of body. Multi-size fursuit makes it easier to sell it, if you don't need it anymore. Depreciation zones are made by sewing in a rubber band - our fursuits has big reserve at the waist and 20" for heights reserve (regarding the growth 5'3"). The "digitigrade's character" shape sets by a light linings, that filled by a synthetic winterizer and it make as removable by Velcro. Linings can be washed separately. Our design with light lining are much lighter than pads from foam rubber - it can perfectly compressed for storage and transportation, also it not are tire when the suit are wearing.
The collar of overalls was filed with fleece. The jumpsuit holds perfectly on your shoulders and does not try to anywhere down.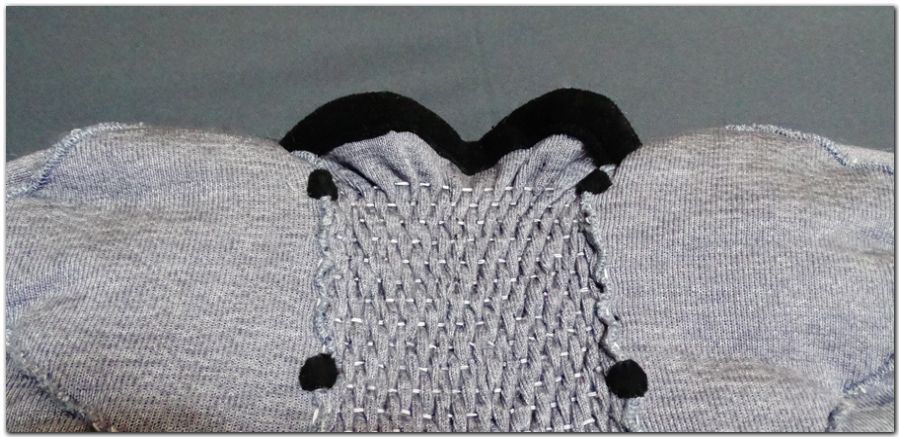 The zip has a double fastening (seam) to the fur and has a good hidden - this is achieved by stitching the edges of the fur to inside.
All the fur's free edges are hemmed and don't stick out, this is protects the fur's fabric base.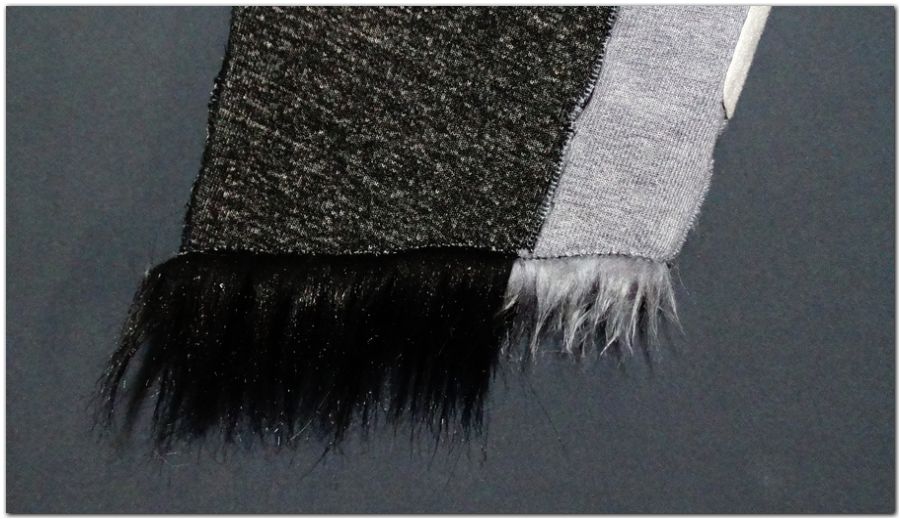 The arms has the cuffed - this is to prevent slipping of the sleeves when the arms are raised up. And, ccordingly, between the jumpsuit and handpaws are not visible "luminous" hands of fursuiter
The cushioning zones are made by sewing in an elastic band - our fursuit fits like a glove and universal for any-size of fursuiters.
So, you can not be afraid to get fat or lose weight - the costume will always good fit you. You may not be afraid of reducing the size by the washings - our costumes have a large supply of width and height. Our fursuits allows to dress it on friend, which is much higher and wider than you, or vice versa, lower and thinner - a costume will be fit perfectly and will give a lot of fun not only to you. Or this allows sell fursuit quicker, as it is suitable for anyone.
The knots of the elastic are pasted over with fleece so that the knots do not loosen over time.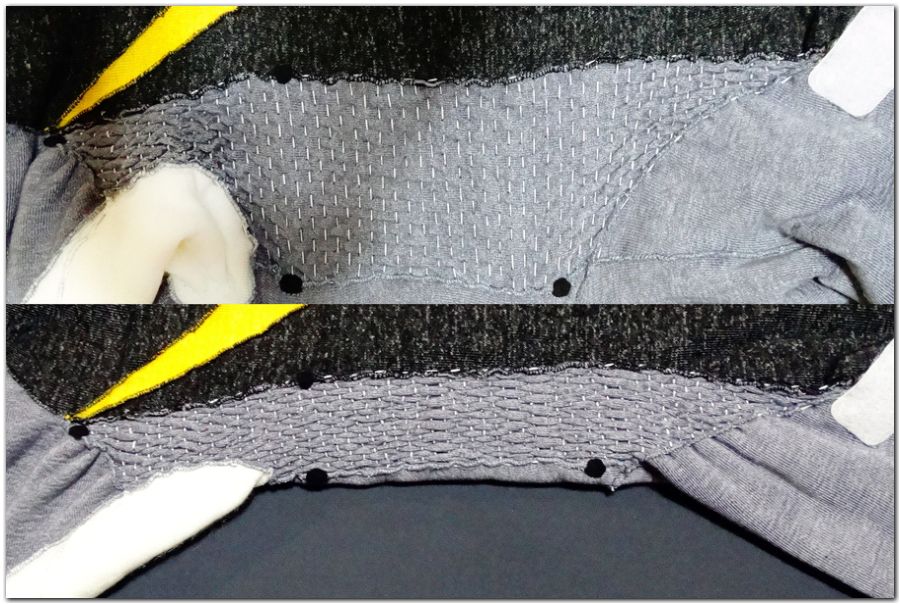 Head design
The head was made of ½ inch polyethylene foam with a steel wire frame (see "BUILD EXAMPLES" on our site). In contrast to the mask from foam rubber, our design has a smaller area of contact with the head of the fursuiter, it is less hot inside, this material does not rot, does not wet absorb.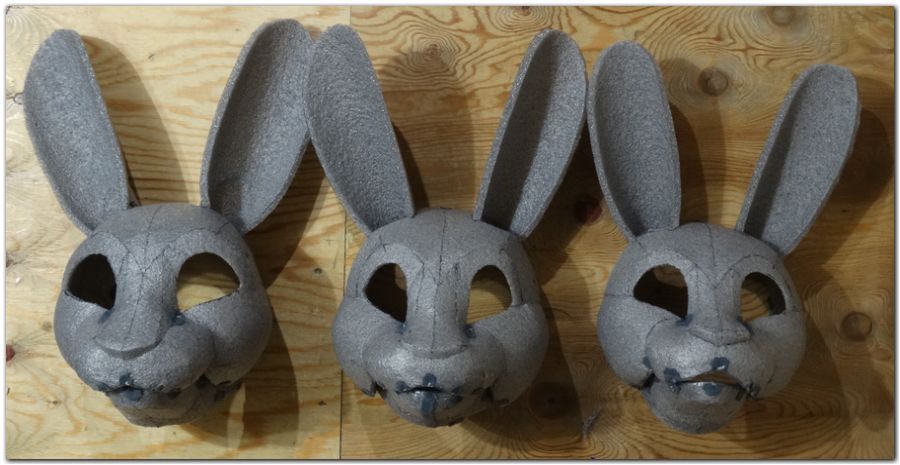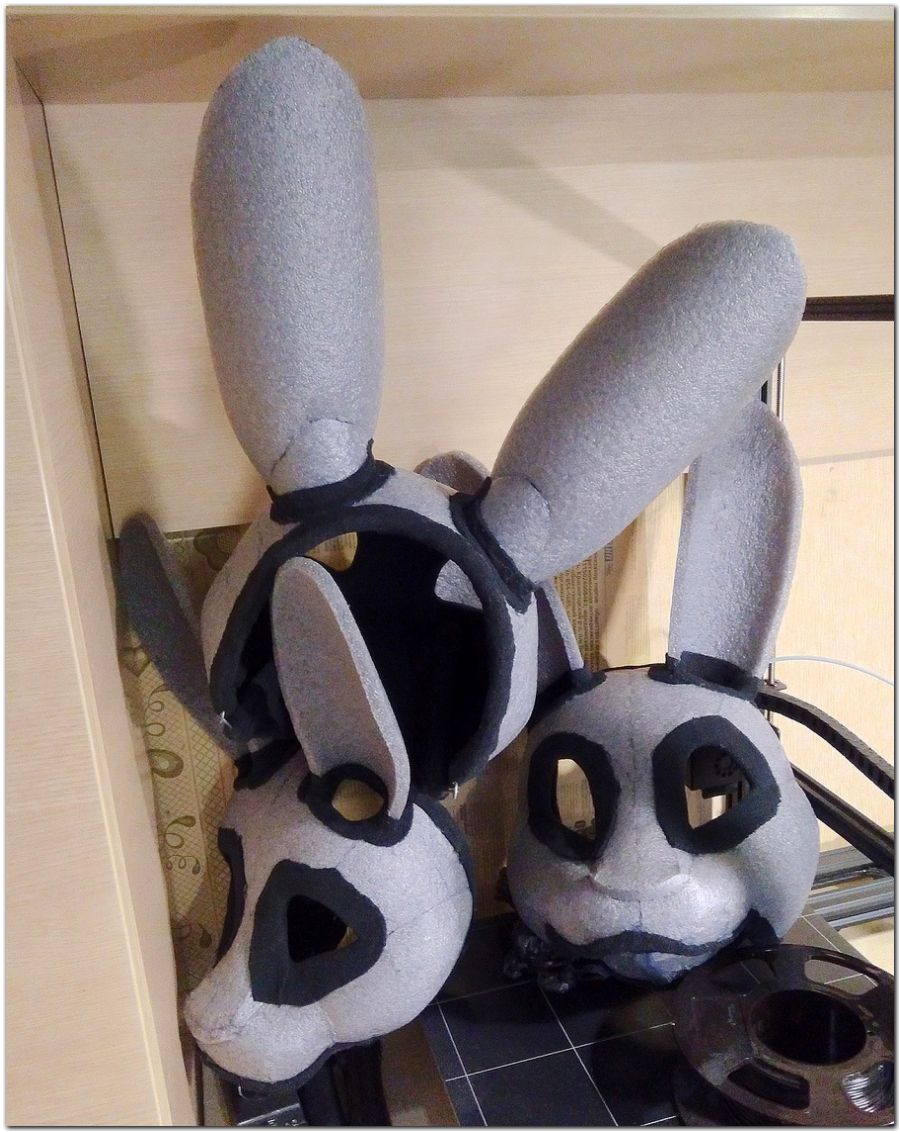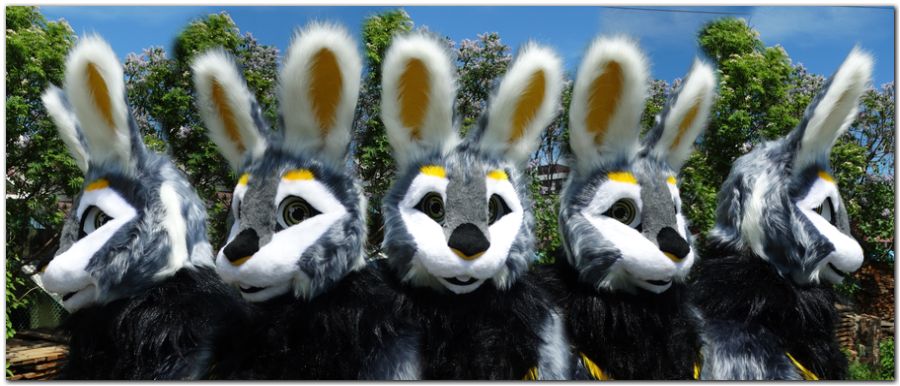 The fursuit head consists of several parts with linings different sizes for different head sizes. The mask touches the fursuiter head at several points, so sweat is not absorbed into the mask, as in foam structures. The jaw is completely removable- it is convenient for quick drying and cleaning. There is enough space in the mask for wearing glasses.
You can leave the jaw on and leave the mask to dry completely open.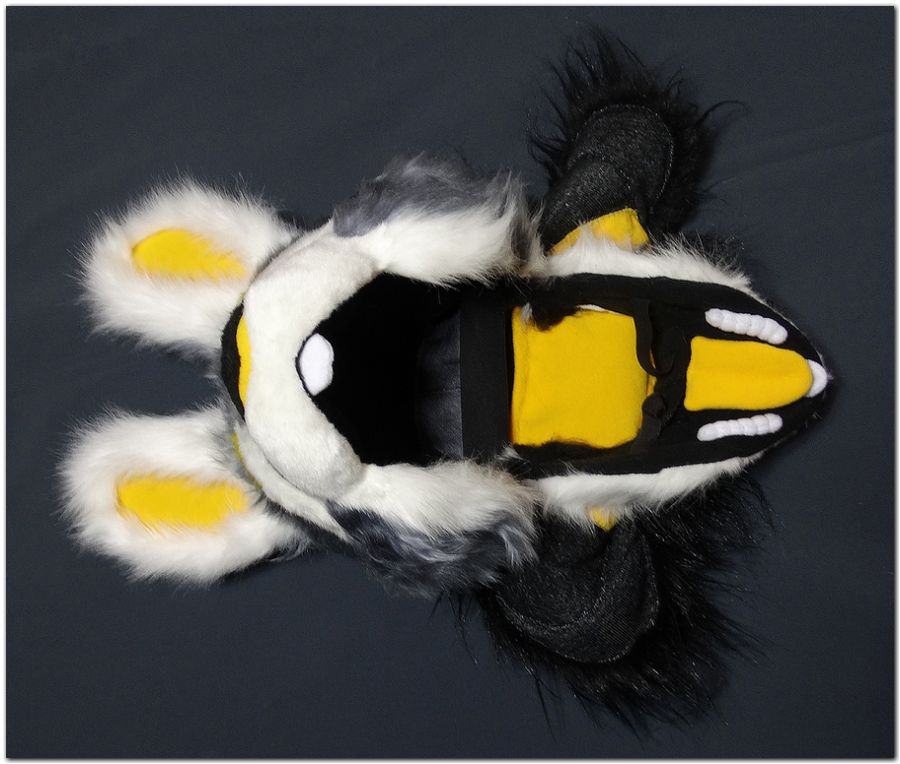 The eyes are made of thick white plastic and printed on a banner printer (mask full washeble). The "boxes of eyes" do not have sharp corners, so the joints are not visible. Eyes is pasted over with white fleece from the side of the eyelid - the more reflected light, the whiter and lighter the recessed, following (to the best of its ability) cartoon eye.
The fursuit's head is well ventilated through the large holes in the ears.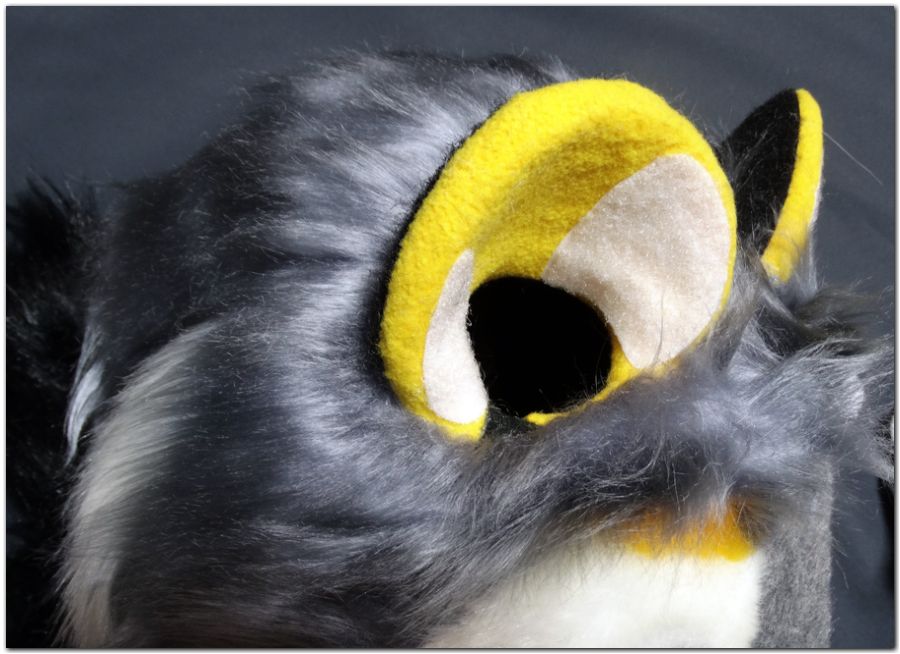 Removable ears with Velcro. An option for storage and delivery suit only - the ears are attached securely and cannot be removed quickly.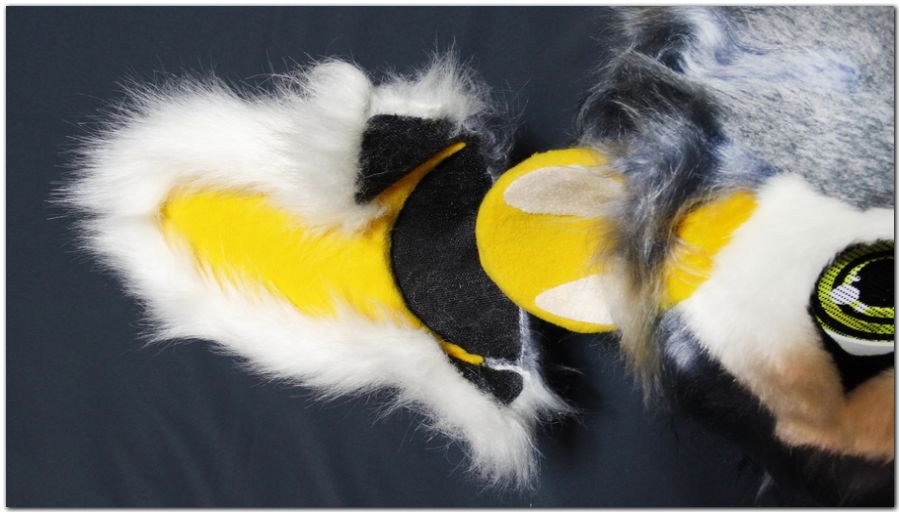 The nose is soft and covered with fleece.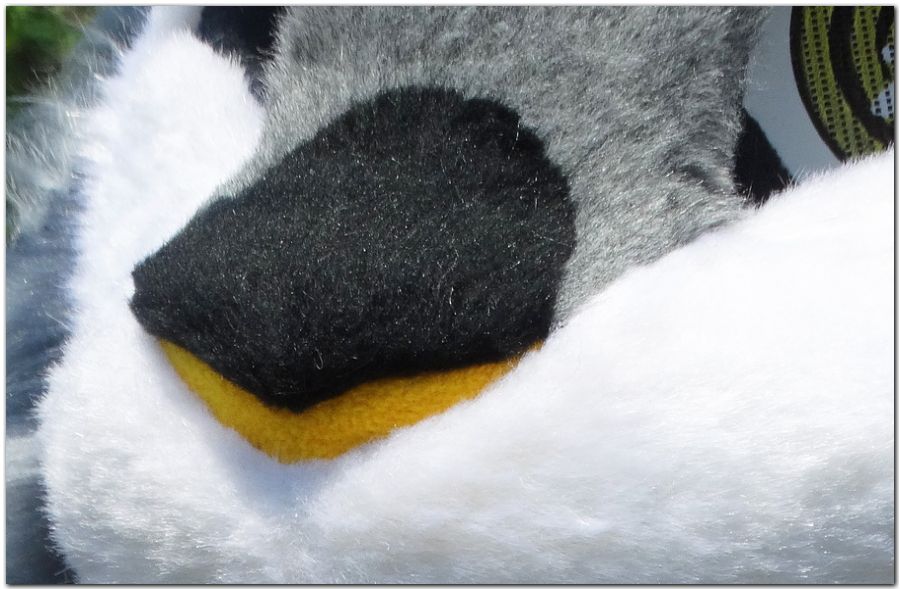 The teeth and lips made from fleece:
- upper teeth made of fleece and removable with Velcro;
- lower teeth glued to the jaw.
A "couple" tongue. Sticky with Velcro.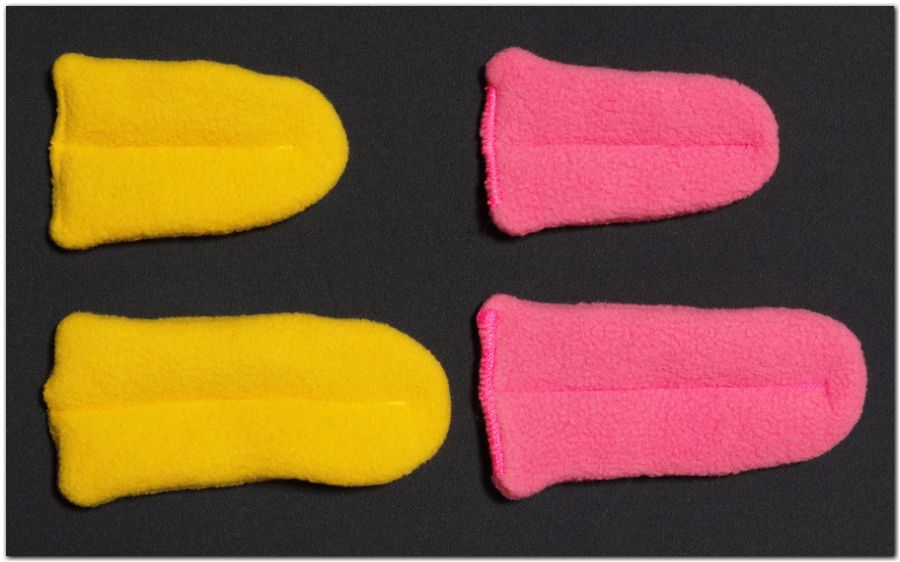 The apron consists of two halves: front and back. It attached to each other with buttons. A couple of large pockets for smartphone, USB-powerbank, etc. are made on the aprons.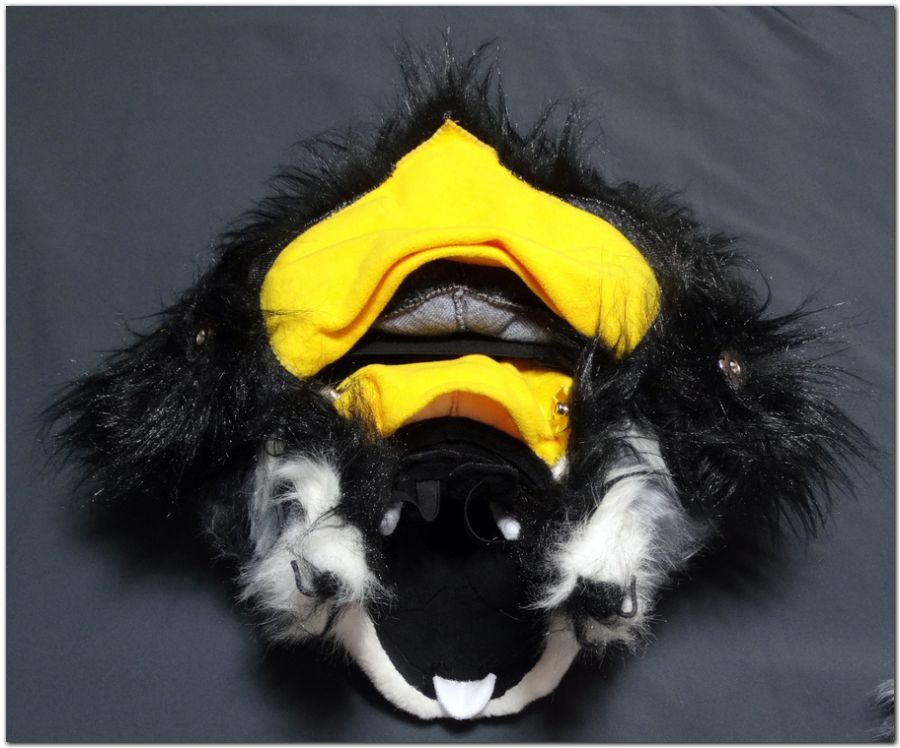 Tail design
Detachable tail skinn for easy washing. Fastening from a strong tape for a usual belt. For the tail in the overalls is made a "sleeve" from fur, so that the tail does not look like a separate, hanging piece.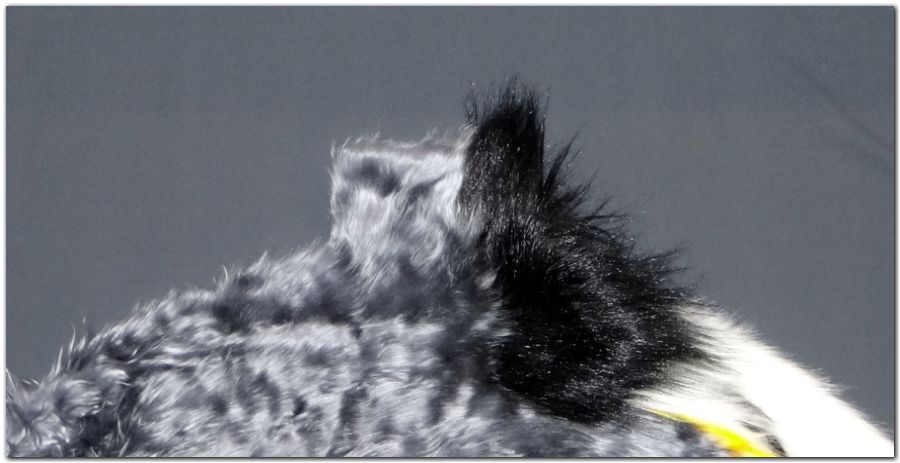 Paws design
Paws have soft claws made from fleece. Here flat the paw pads, so as not to interfere with a long walk and not quickly wear out. Have the sandals with rubber sole. Inside the paws there is a fleece sock, which can be turned out for quick drying or cleaning.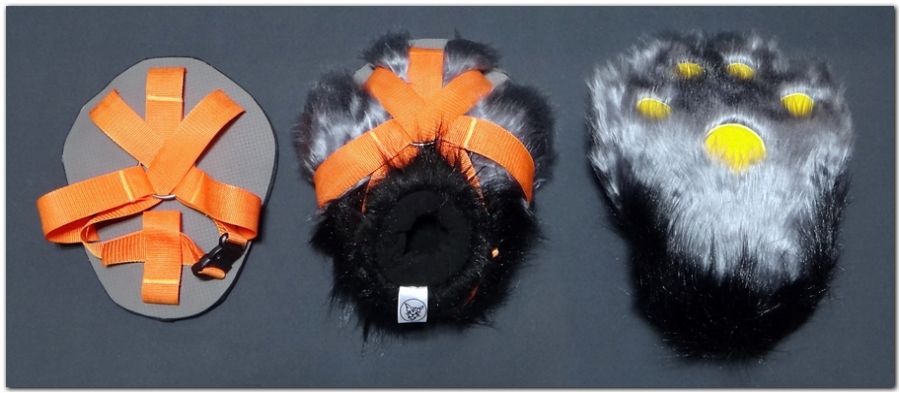 Fleece sock inside. It can be turned out so that the whole structure dries faster.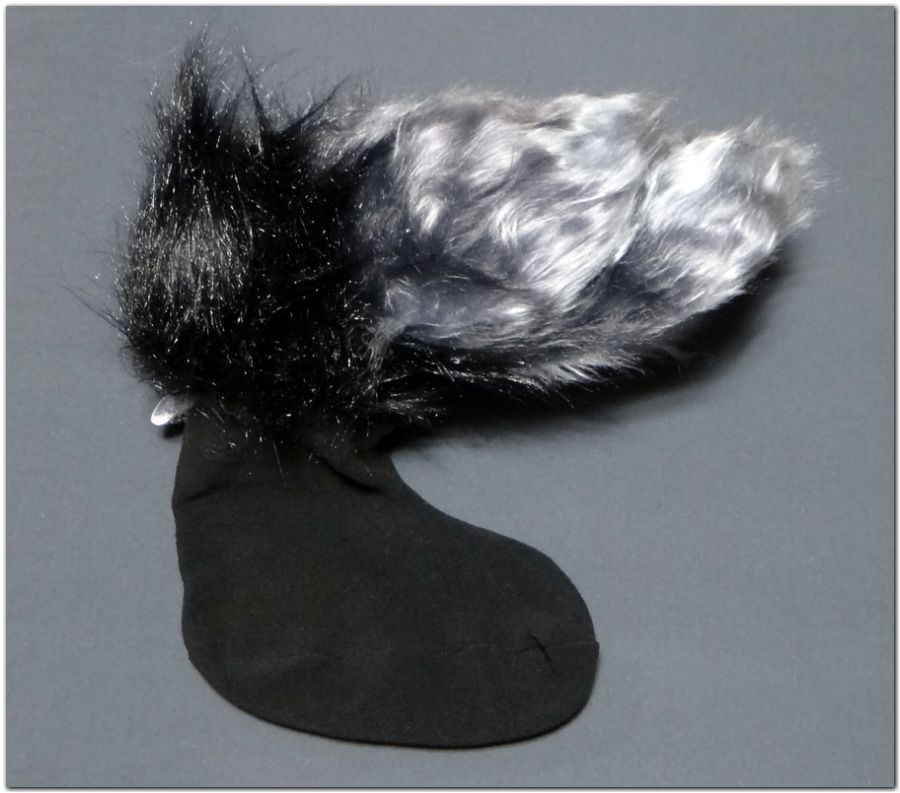 Handpaws four-fingered. On the paws voluminous pads and claws made of fleece.
The inside of the fingers is padded to keep the fingers looking plump and not loose on hand.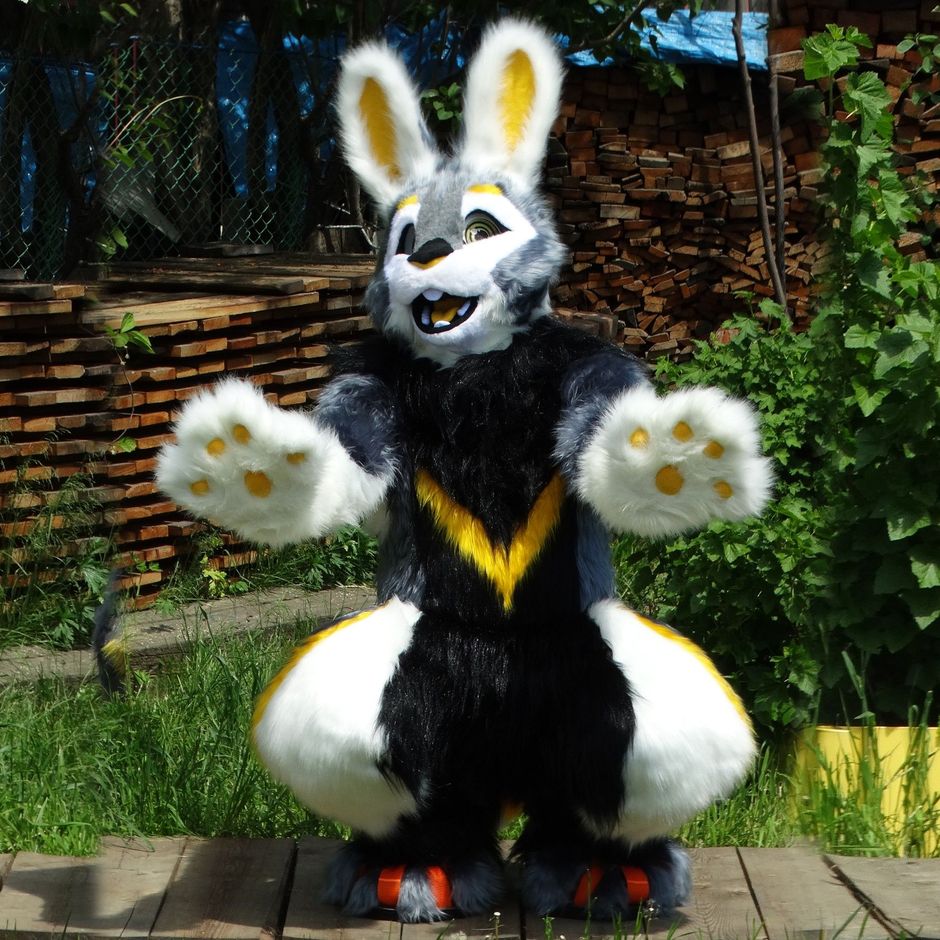 UP to the beginning
Dimensions
of fursuiter:
minimum
comfortable size of Fursuiter
centimeters / inches
maximum
comfortable size of Fursuiter
centimeters / inches
59 kg
160 cm
130 lb
5'3"
110 kg
190 cm
245 lb
6'2"

1.

Height (reserve up to 200 cm or 80").
160 cm
62 ins
190 cm
76 ins

2.

Arm length (from shoulder to wrist).
56 cm
22 ins
65 cm
26 ins

3.

Torso length (from collar bone to crotch).
without restrictions,
since the waist is understated with sufficient margin

4.

Leg length (from hip bone to ankle).

5.

Foot size (either mens shoe size or measured length).
maximum foot length - 29 cm (11" 1/2).

6.

Around top part of arm (measure largest part).
32 cm
13 ins
40 cm
16 ins

7.

Around bottom part of arm (largest part).
27 cm
11 ins
33 cm
13 ins

8.

Around chest (largest part)
95 cm
37 ins
115 cm
46 ins

9.

Around waist (smallest part).
78 cm
31 ins
114 cm
46 ins

10.

Around hips (largest part).
100 cm
40 ins
100 cm
44 ins

11.

Around top part of leg (largest part).
without restrictions,
since the linings of the exoskeleton compensates for this size

12.

Around bottom part of leg (largest part).

13.

Handspan (from tip of thumb to tip of Violetie when spread).
19 cm
8 ins
23 cm
9 ins

14.

Around ankle.
without restrictions,
since the linings of the exoskeleton compensates for this size

15.

Around wrist.
17 cm
7 ins
20 cm
8 ins

16.

Around head through the chin.
64 cm
25 ins
70 cm
28 ins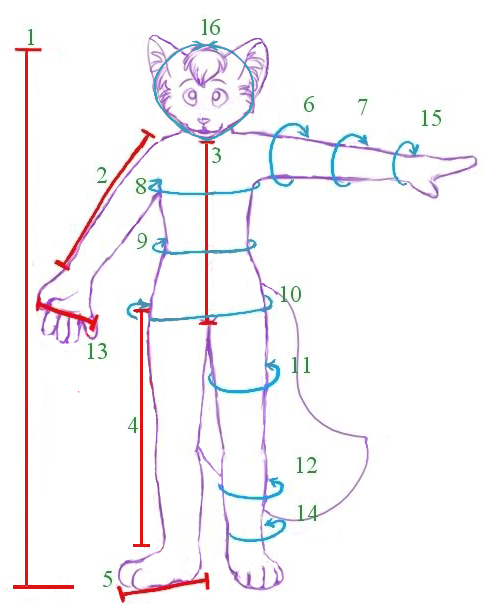 Do you have interesting questions?
Send us your details and we'll get in touch withtin 24 hours (possible except weekends).