The fursuit's overalls have a large stock in size and take up tied by textile elastic bands - overalls fits on a body like tight glove and at the same time it does not experiencing load when worn . The collar of overalls is hemmed with fleece for reliability. Multi-size fursuit makes it easier to sell it, if you don't need it anymore.
A shape sets by the linings for full digitigrade's character. Linings filled by a synthetic winterizer. Linings are removable, on Velcro, and it can be washed separately. Linings are much lighter than pads from foam rubber - are perfectly compressed during storage and transportation.

Depreciation zones are made by sewing in a rubber band. Our fursuits has almost double the stock in width due to this.
The zipper of the overalls is stitched with a double seam. The edges of the fur are hemmed inwards, thus zipper is hidden by fur.
All the fur's free edges are hemmed and do not stick out. The nodes of the rubber shock absorbers of body are additionally glued with fleece so that the nodes do not have the opportunity to untie in any way.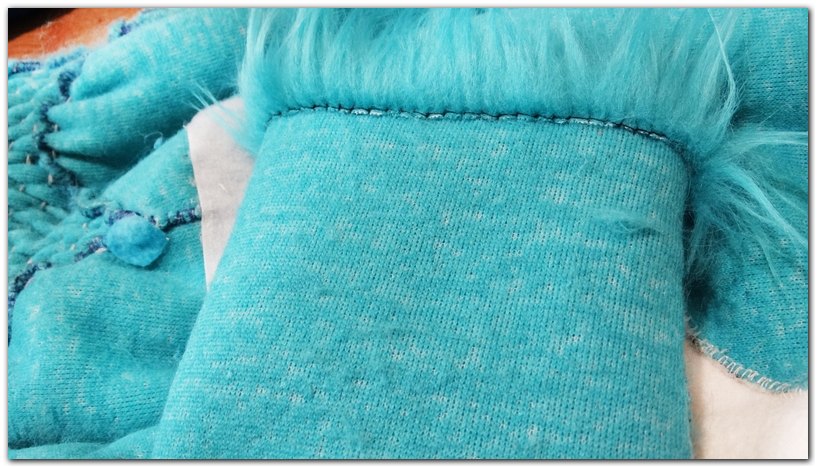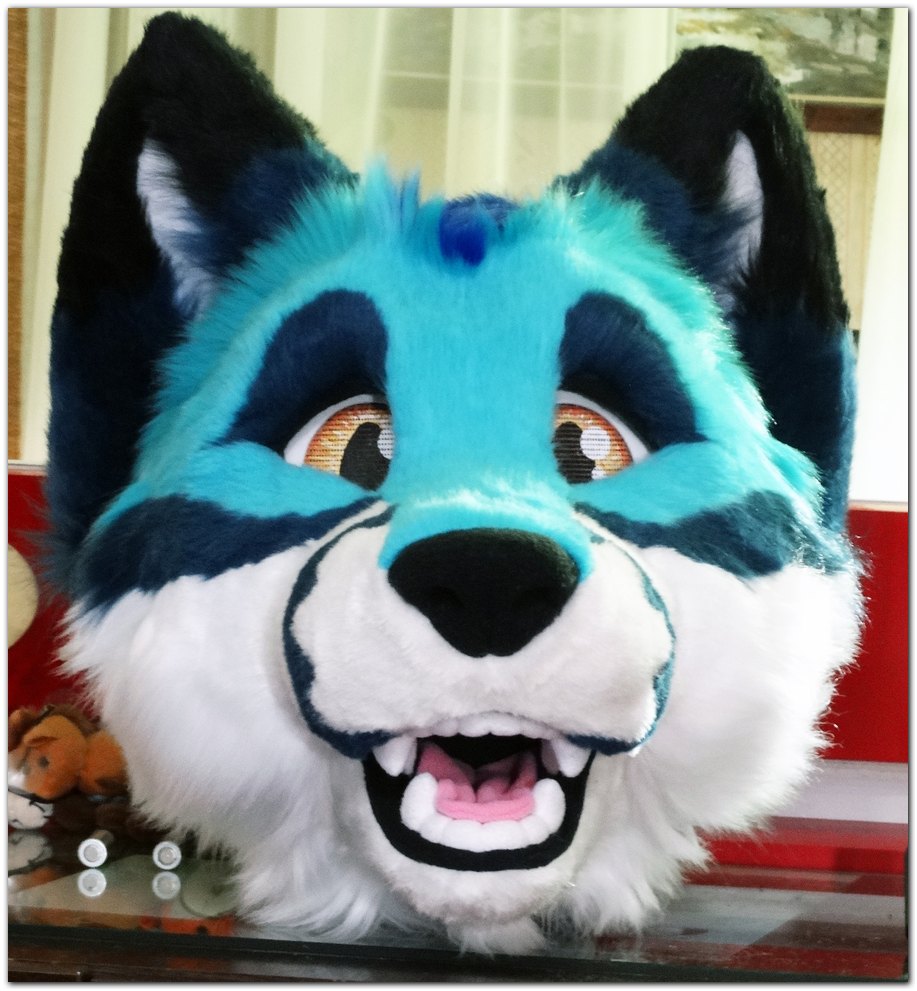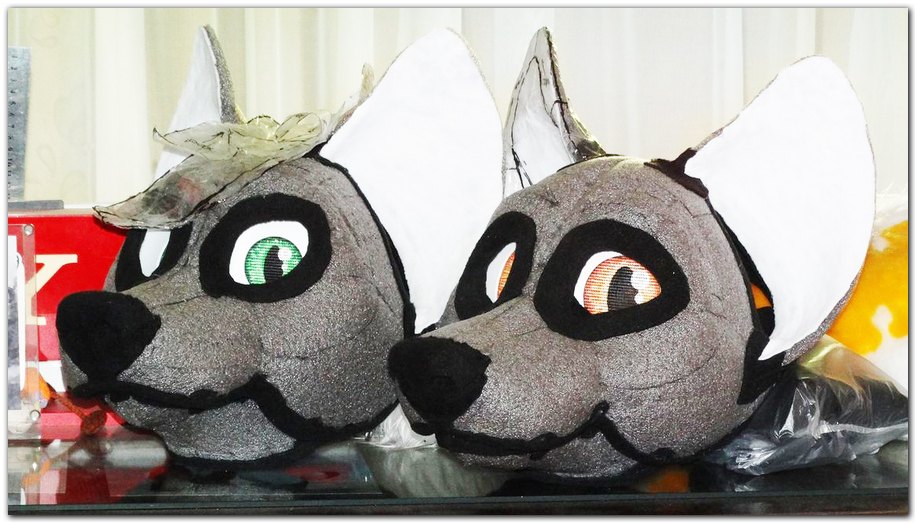 The eyes are made of thick white plastic. Drawn with acrylic (mask can be washed). For greater light reflection of the orbit inside pasted over by white fleece. The eye's eру rims are pre-plastered by black fleece.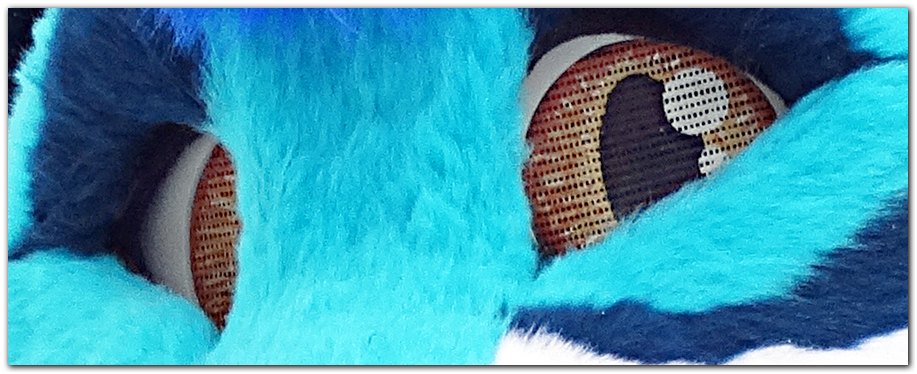 The ears of the mask have a large ventilation's vents.
When the fan is turned on, the main air flow inside the mask occurs through the ears.
When the fan is off, hot air has an outlet through these openings in the ears of the mask.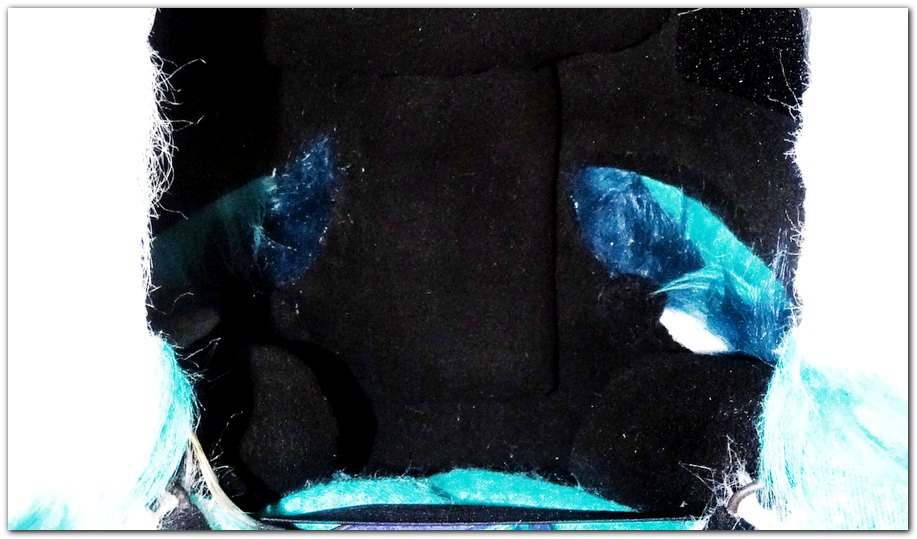 The jaw is opens and can be removed. This is useful for quick drying and cleaning the mask from the inside.
A photo with an enlarged gamut showing the inside of the head (it's actually very dark inside).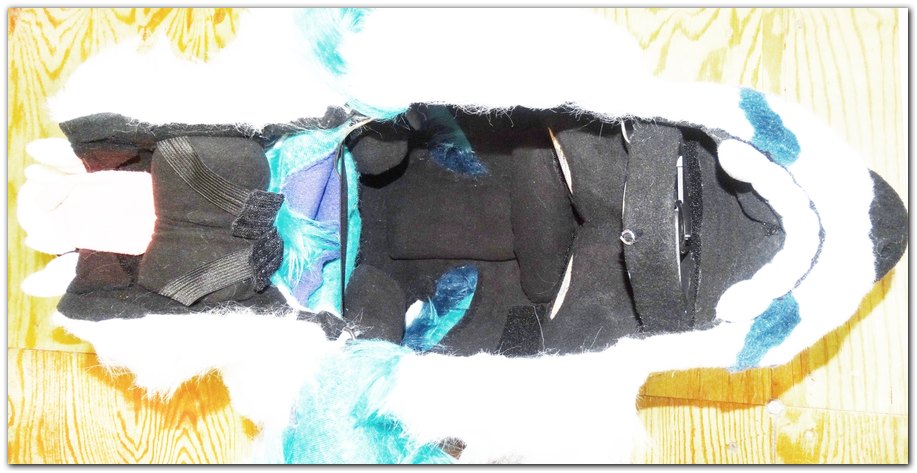 The fursuit's head consists of several parts with pads, which allowing it to have a multi-dimension.
A tongues are made removable on Velcro.
The mask has separate front and rear aprons with cormans sewn to them.
Removable fan for 12 volts (requires an adapter of 5 to 12 volts to power it from a powerbank USB)
Click to enlarge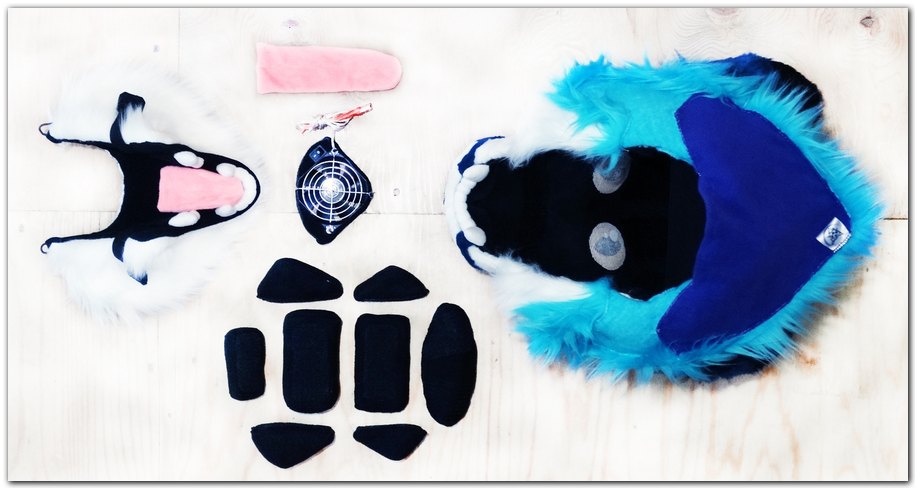 The nose is trimmed with fleece with imitation of nostrils. Lips made of fleece. Upper and molar teeth can be removed (teeth on Velcro).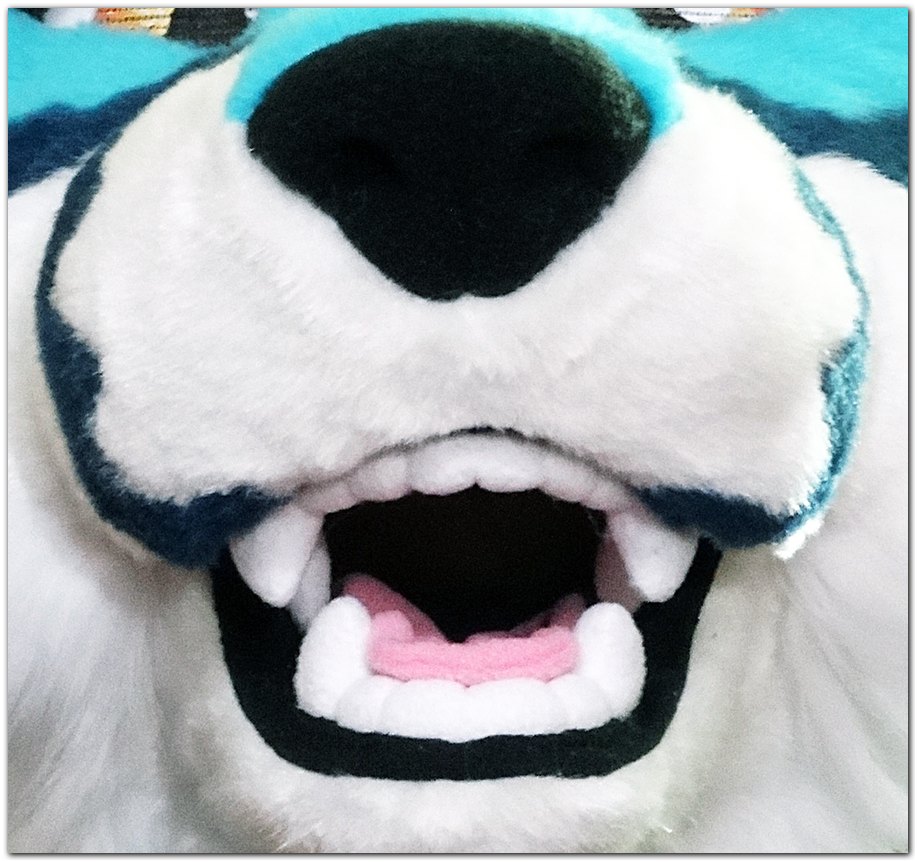 The teeth are made from white fleece and not removable. Lips made from fleece.
A large 3" fan is removable and can move in the mouth to select its comfortable position. The mouth with the fan installed is always slightly open.
A tail of a demountable design with fastening from a strong tape for a usual belt. For the tail in the overalls is made a "sleeve" from fur, so that the tail does not look like a separate, hanging piece.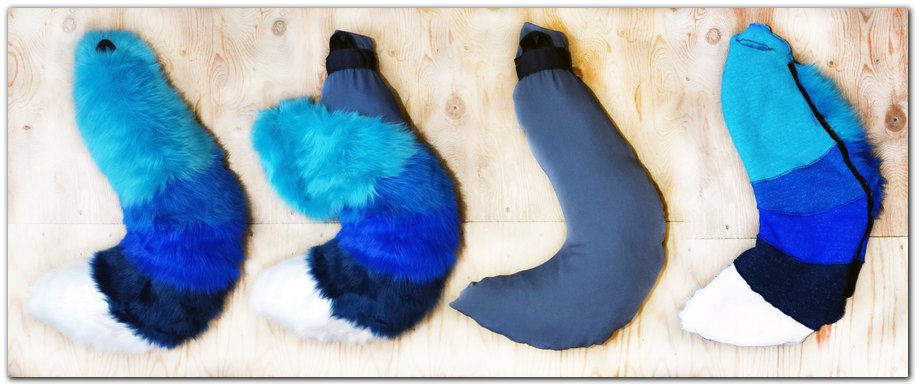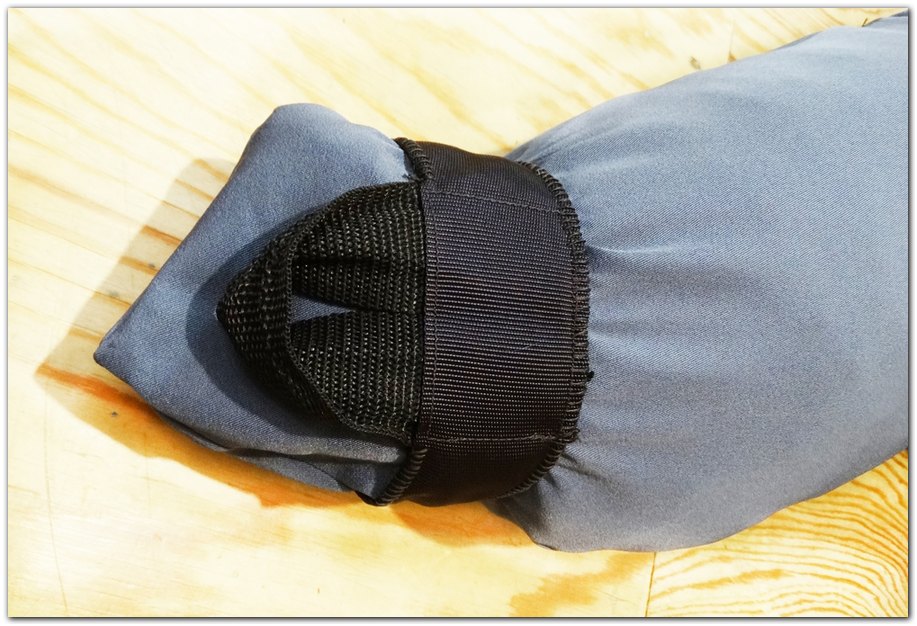 Paws design
Finished paws have soft voluminous fleece pads and equipped with sandals with rubber sole. The paws have soft claws made from fleece. Inside the paws there is a fleece sock, which can be turned out for quick drying or cleaning.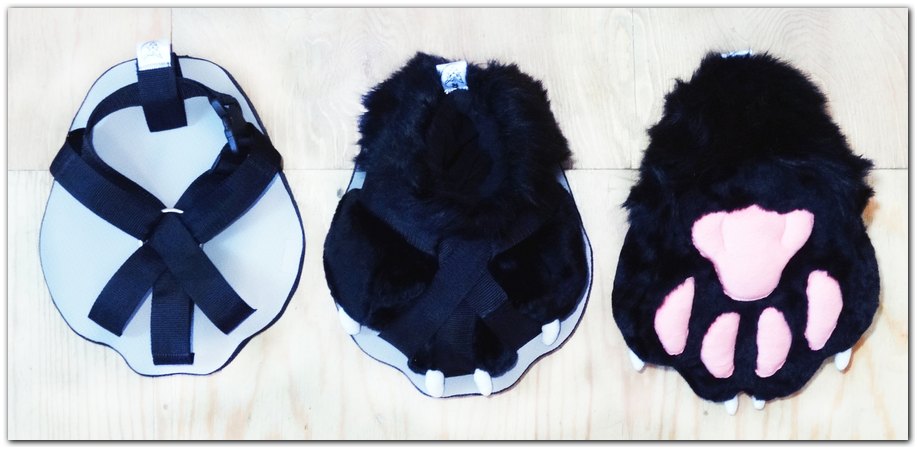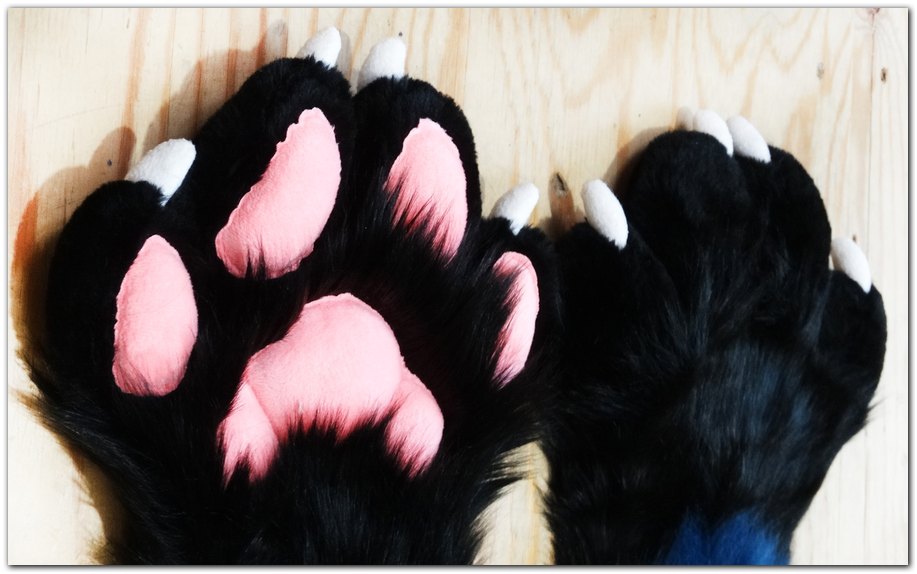 We made multy-size feetpaws - this is have't boots of a certain size inside. The base is made of foam rubber. For comfort a feetpaws contain a heel and side restraints and have very light in weight.
Handpaws have voluminous pads and claws made from fleece - paws with 4-fingered with false "5 finger".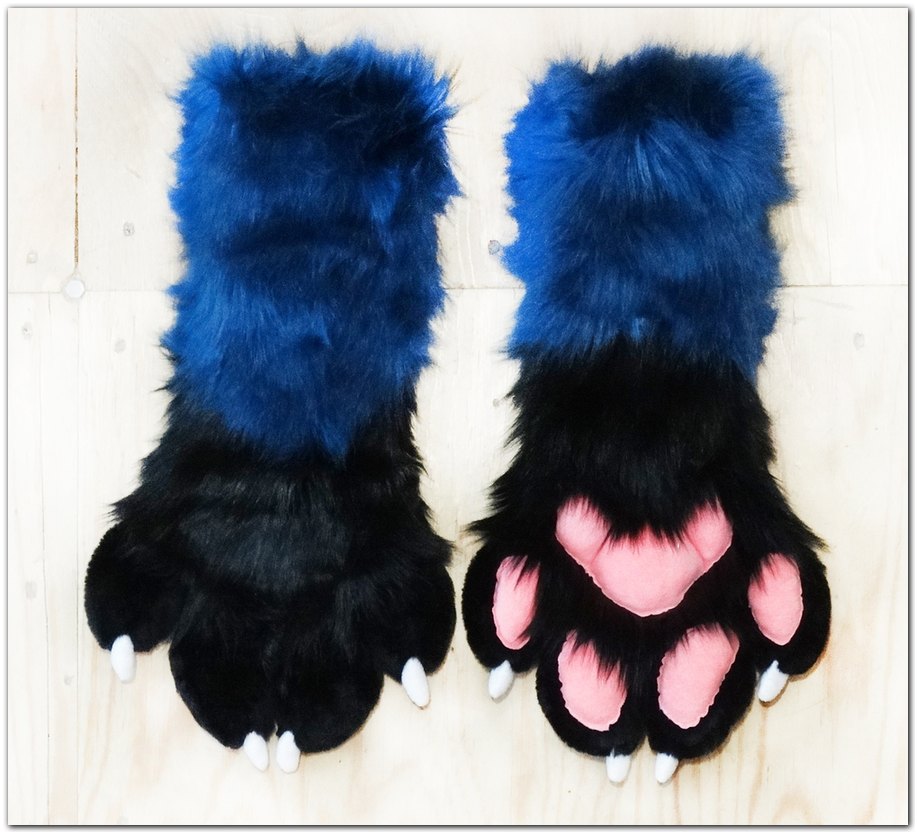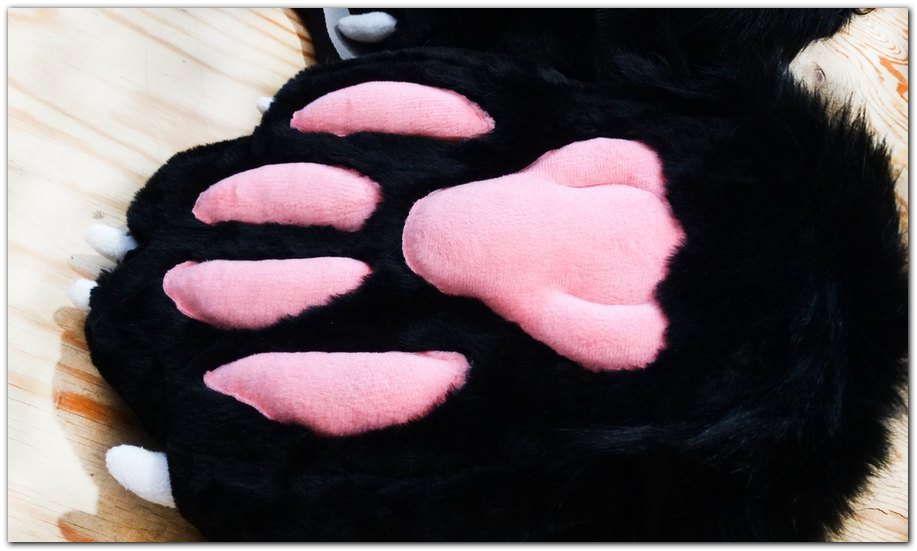 UP to the beginning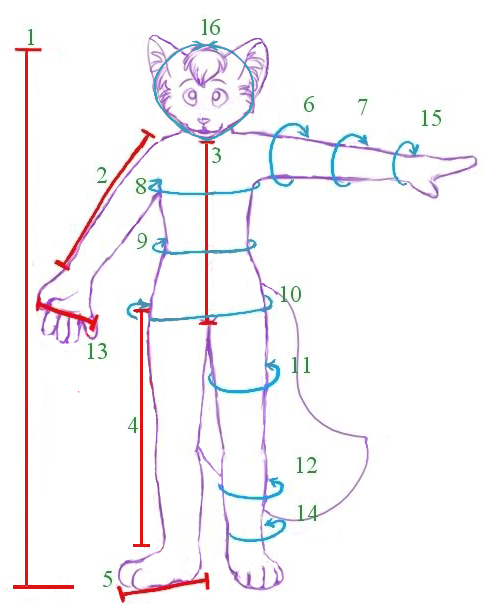 Dimensions of fursuiter:
minimum
comfortable size of Fursuiter
maximum
comfortable size of Fursuiter
59 kg
160 cm
130 lb
5'3"
110 kg
210 см
245 lb
6'3"
centimeters
inches
centimeters
inches
1
Height (reserve up to 210cm or 84").
160 cm
62 ins
190 cm
76 ins
2
Arm length (from shoulder to wrist).
56 cm
22 ins
65 cm
26 ins
3
Torso length (from collar bone to crotch).
without restrictions, since the waist is understated with sufficient margin
4
Leg length (from hip bone to ankle).
5
Foot size (either mens shoe size or measured length).
26 cm
10 ins
32 cm
13 ins
6
Around top part of arm (measure largest part).
32 cm
13 ins
45 cm
18 ins
7
Around bottom part of arm (largest part).
27 cm
11 ins
31 cm
12 ins
8
Around chest (largest part)
95 cm
37 ins
120 cm
47 ins
9
Around waist (smallest part).
78 cm
31 ins
115 cm
46 ins
10
Around hips (largest part).
100 cm
40 ins
120 cm
47 ins
11
Around top part of leg (largest part).
without restrictions, since the linings of the exoskeleton compensates for this size
12
Around bottom part of leg (largest part).
13
Handspan (from tip of thumb to tip of pinkie when spread).
19 cm
8 ins
23 cm
9 ins
14
Around ankle.
without restrictions, since the linings of the exoskeleton compensates for this size
15
Around wrist.
17 cm
7 ins
20 cm
8 ins
16
Around head through the chin.
64 cm
25 ins
70 cm
28 ins